Enterprise Business Servers
© Personalized Computers
Enterprise Solutions - If you are a network engineer, IT director or technology specialist you will be pleased to know that Personalized Computers has a wide product line of servers, networking and security solutions. We specialize in rack-mountable or pedestal servers that are customized to your specific needs. Whether you are adding a domain controller, application server, mail server or are virtualizing multiple servers we have your solution
Pedestal or Rack? – A pedestal server is a stand-alone solution that resembles a traditional computer. It is generally larger in size than a desktop computer solution, but stands upright like a standard tower. This is the typical solution for a small business with a single server. This can easily be stored in a closet or under a desk. A rack solution is intended for a larger organization or one that anticipates growth. A rack-mounted server is a high-density solution that will allow for several servers to be placed in a small area of space. In addition to rack-mounted servers, you can populate your computer rack with network switches, telephone equipment, battery backup devices and firewall appliances. If you are running 2 or more servers (SQL, Exchange, backup server) or planning on virtualization or a SAN (storage area network) you may want to consider a rack solution.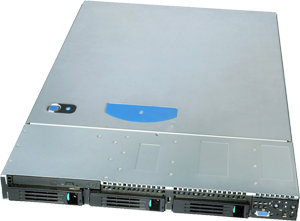 Which operating system is right for me? – Most of our clients run a flavor of the Microsoft server family. These products include Windows Server, Windows Small Business Server, Exchange Server and SQL Server. While these are all good solutions and will depend on your individual needs, we are also experienced in Linux-based solutions and maintain several clients on a Novell platform. This question will definitely require more interaction regarding your applications and technology goals to answer.
What backup solutions are available? – In a word, many. This is another way that we can help to cut through the confusion. The world of tape backups and libraries has given way to virtualization, NAS or SAN solutions and offsite backups. Personalized Computers has scores of possible backup solutions for any budget. Our experience tells us that the range of products is tremendous. It is a matter of finding the comfortable balance between price and reliability.
Other considerations – There are many other variables which come into play when considering a server. One of the first things to consider the software that you use in your organization. Consulting with your software provider is generally and important part of this process. They may have specific requirements to ensure compatibility and support. You may also want to consider physical space in your office, potential thermal issues and any industry-specific guidelines such as HIPAA for the medical industry.
Why Personalized Computers?
Intel servers – Our servers are all designed and configured at our Columbia facility using Intel server building blocks. Since all the components are branded or validated by Intel you are assured the best in quality, performance and support. The configurations are available in virtually every configuration of density and components. Intel RAID controllers will allow for SATA, SAS or SSD drives in 2.5" or 3.5" configurations. The drives can be fixed or hot-swappable and can be configured in any RAID level (varies by controller). Our servers are available in single or dual Xeon configurations with up to 196 GB of RAM per server (depending on the motherboard). That said, if you are set on a server from Dell, HP or Lenovo, we have forged strategic partnerships that would allow us to provide you one of these solutions and add our expertise of network implementation.
Experience – Since 1998 we have provided server solutions that are robust, secure, reliable and address the needs of the organization. Our engineers are trained and certified to implement the latest technology. Our client list is second to none. Please ask for referrals, it may surprise you!
Location – As a mid-Missouri business we are more responsive to your needs than any of the multi-national companies are able to be. They don't have a local partner who is vested in their success or your loyalty. We are that local partner!
Services
Chances are, unless you are at IT director, much of what has been stated about servers may have just as easily been written in another language. For the office manager, business owner or designated technology person we are your best resource. We offer free technology evaluations as well as consulting, implementation and maintenance solutions. Not only can we gather information about your needs and present the best solution, we can also make it work and keep it working optimally. Contact Personalized Computers today to discuss your current needs or anticipate future needs.